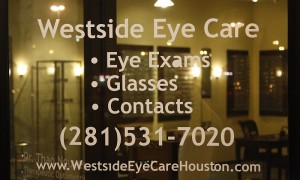 Westside Eye Care offers primary optometric care for all ages.  Our super friendly optometrist and her staff will make you feel right at home.
Our services include:
Comprehensive Eye Exams
Contact Lens Eye Exams
Red eyes, dry eyes, and foreign body removals
One hour glasses in most cases
Lasik and Cataract consultations
Westside Eye Care is a family oriented eye care facility.  Our office is located in the Energy Corridor at the corner of Eldridge and Briar Forest (same parking lot as Kroger).  We are also open 6 days a week with late evening hours.  Our highly trained eye doctor, Dr. Thao Nguyen, is super friendly and extra thorough.  She performs eye exams on patients as young as 6 months old (for pediatric eye exams) to children and adults of all ages.
Our comprehensive eye exams include a very thorough assessment of your: vision, peripheral vision, eye muscle tests (to check for lazy eye, strabismus), intraocular pressures, external ocular health (we check for corneal problems, cataracts, dry eyes, eye allergies, blepharitis, etc.), and the internal ocular health (glaucoma, macular degeneration, eye tumors, diabetic eye check up, hypertension, retinal detachments, etc.).  Our eye doctor will also discuss contact lens options, cataract surgery, or lasik surgery if you are interested.
Our eye care facility will take care of all of your insurance filing and or itemized invoices often needed for Health Spending Accounts and Flexible Spending Accounts.  We even offer no interest financing and are a proud provider of Care Credit (a health/medical credit card).  You can apply for Care Credit online or in office (process takes less than 5 minutes).
Medical insurance can many times be used for a comprehensive eye exam even when you do not have a vision plan.  If you do not have any types of insurances, Westside Eye Care can help (please contact for more information).  We offer great deals like comprehensive eye exam with a complete pair of basic glasses for $94 (must mention ad at time of appointment).
To schedule an appointment, please call us at 281-531-7020!